Loving Toyota Supports the mobility needs of those with physical disabilities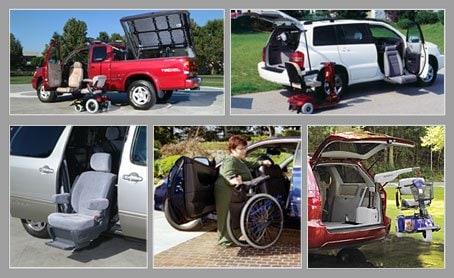 The Toyota Mobility Program supports the mobility needs of Toyota owners and/or family members with physical disabilities. Loving Toyota is dedicated to helping those with disabilities find the best transportation option. Program elements include:
TOYOTA MOBILITY ASSISTANCE
Provides cash reimbursement of up to $1,000 off the cost to the vehicle owner for aftermarket adaptive equipment, for drivers and/or passengers, when installed on any eligible purchased or leased* new 2001 or later Toyota vehicle. Refer to
Assistance Guidelines
and
Reimbursement Application Form
sections of this web site for detailed requirements. Forms are also available from your local Toyota dealer or from any adaptive equipment installer.
COMPREHENSIVE MOBILITY RESOURCE INFORMATION
Lists of driver assessment centers and mobility equipment dealers/installers are available by state.
TOYOTA FINANCIAL SERVICES MOBILITY FINANCING
Available upon credit approval, through Toyota Financial Services and participating Toyota dealers. Provides flexible, extended-term financing for persons with physical disabilities, or their families, for purchasing a new Toyota vehicle with the installed adaptive equipment (including installation costs). Please contact your local participating Toyota dealer for details.
Subject to written lessor approval. Note: Not all leasing companies will approve the installation of adaptive equipment, so be sure to check and obtain written approval first.