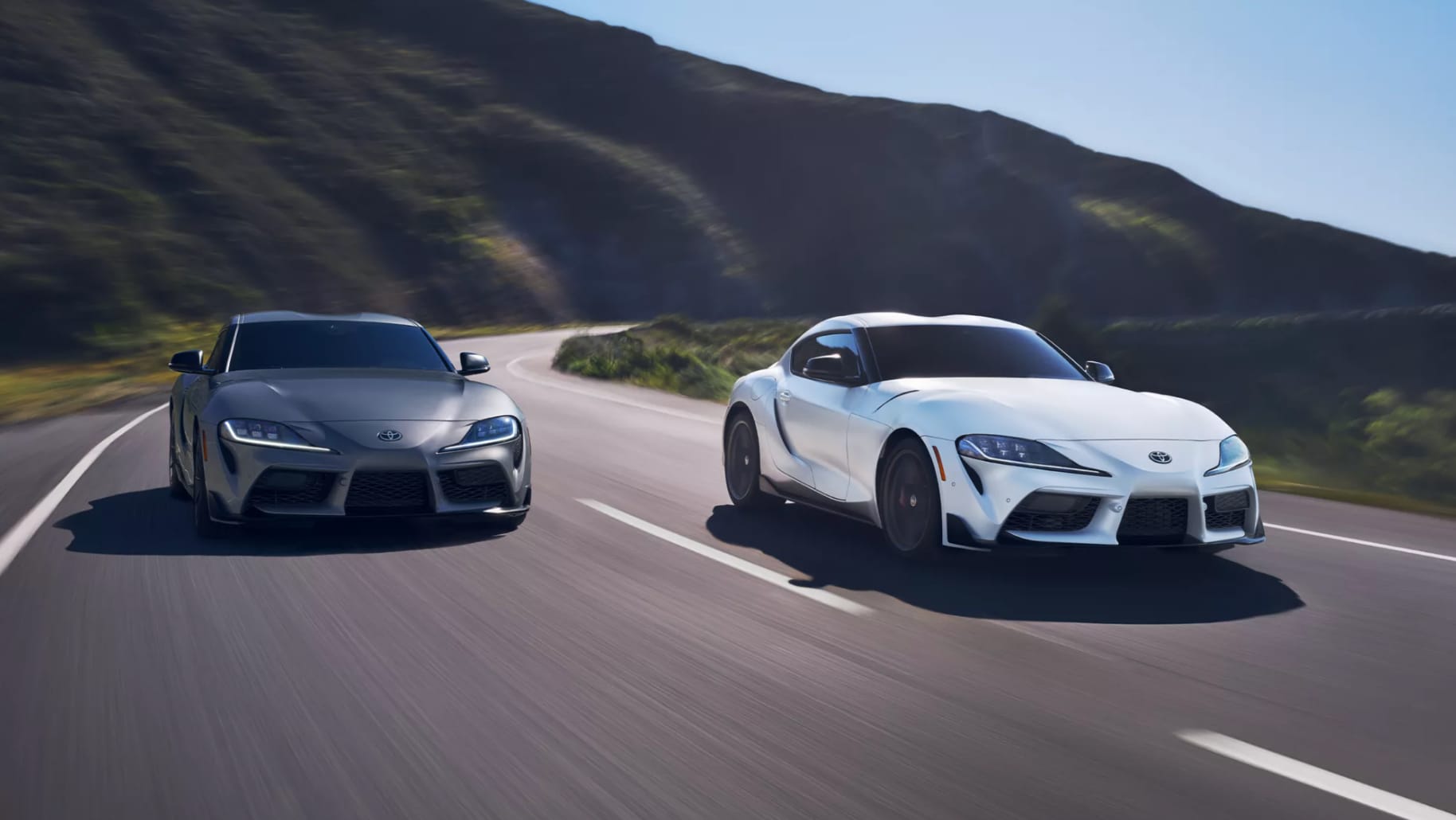 Discover more about the new Toyota 2023 GR Supra coming soon to Loving Toyota! Arriving later this year, the Toyota GR Supra underwent advancements on both the inside and outside to provide an even smoother and sporty driving experience. Take a further look into what this 2023 model has to offer you!
Newest changes and Features in the 2023 Toyota GR Supra:
GR Supra evolves again with a new manual transmission (MT) option

MT available on GR Supra 3.0, 3.0 Premium and a limited A91-MT Edition model

A91-MT Edition limited to 500 units for the U.S. Market, comes in two exclusive exterior colors with a unique Cognac leather trimmed interior

Refined handling across all GR Supra 3.0 models with new steering and suspension tuning and new Hairpin+ function

New premium 12-speaker JBL Audio system standard on all 3.0 Premium and A91-MT models

Complimentary 1-year membership to the National Auto Sport Association, featuring a High-Performance Driving Event with expert instruction
Design & Trim Levels
Along with the engine getting a facelift, there are additional interior and exterior color combinations available for the 2023 Toyota GR Supra. Color options for the 2023 GR Supra include CU Later Gray, Stratosphere, Burnout, Absolute Zero, Nocturnal, Renaissance Red 2.0, and Nitro Yellow. Coupled with the sporty exterior style, any of these colors will certainly turn heads on the road. The GR Supra family is expanding by adding special additions and packages including the GR Supra A91-MT Special Edition that is limited to only 500 units! This highly customizable sports car allows you to get the exact design and feel you want. 
2023 GR Supra Trim Levels:
2.0 

3.0

3.0 Premium 

A91-MT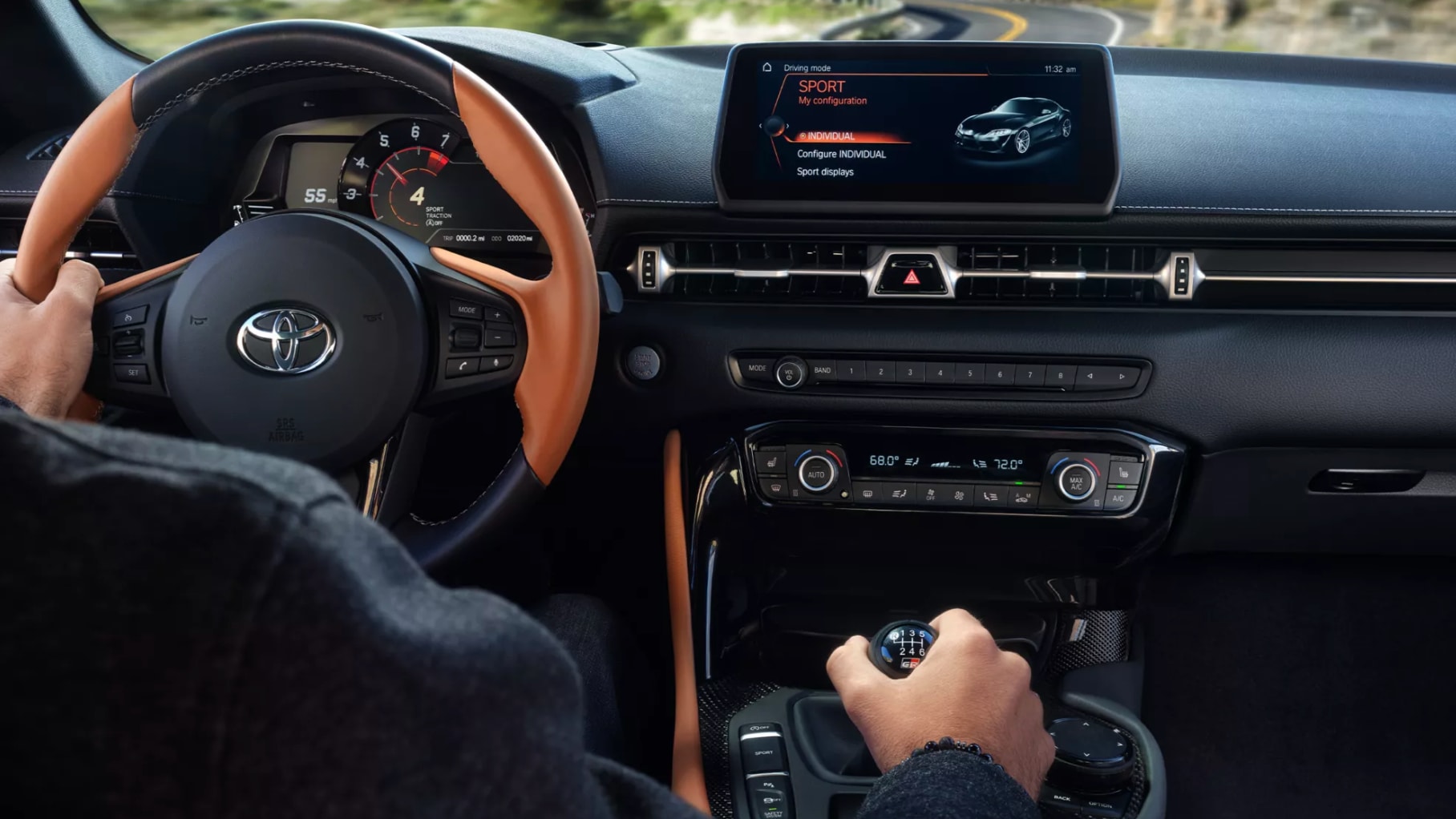 Performance
The main upgrades in the 2023 GR Supra are the new 6-speed manual transmission and 8-speed automatic transmission. This new transmission is powered by a 3.0-L turbocharged inline-six engine. With 382 horsepower and 368 lb. ft. torque capabilities, this powerful sports car can take you anywhere. 
Leasing Options for the New 2023 Toyota GR Supra in Lufkin, TX 
Car leasing can be a great option for those who want to drive a new car without the financial commitment of buying. Leasing a car typically requires a lower down payment and monthly payments than purchasing, making it more affordable for many people. Additionally, since lease terms usually last 2-3 years, you can enjoy driving a new car with the latest features and technology without having to worry about long-term maintenance costs. Leasing also offers the flexibility to easily switch to a new car once your lease term is up, which can be a great option for those who like to drive the latest models. Contact us today about leasing the new 2023 Toyota GR Supra from your local Toyota dealership Loving Toyota!
Stay updated on the newest information on the 2023 Toyota GT Supra sports car with us at Loving Toyota! As information on this vehicle is released we will be sure to share that information with our customers. We are proud servers of the surrounding areas of Lufkin, Livingston, Nacogdoches, Jasper, and Trinity. We invite our neighbors to visit our showroom or check out all of our new and used vehicles online! You can visit us at 1807 South Medford Drive, Lufkin, TX 75901 , and for any additional information give our sales team a call at 888-473-2509.